NIA Homepage
Search for Datasets and/or Biospecimens
LIFE - Lifestyle Interventions and Independence for Elders
Featured Collection
The primary aim is to assess the long-term effects of structured physical activity on the primary outcome of major mobility disability, defined as inability to walk 400 m.
SWAN - Study of Women's Health Across the Nation
SWAN is providing many interesting findings about the health and aging of mid-life women from diverse communities and racial and ethnic backgrounds.
Other NIA Studies
Longitudinal and clinical studies on aging supported by the National Institute on Aging have generated collections of biospecimens and related phenotypic and clinical data to allow better understanding of the aging process and to promote advances in the development of prognostics, markers, and therapeutics for aging-related conditions.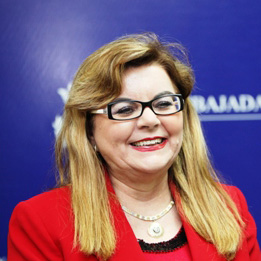 Rosaly CORREA-DE-ARAUJO,
Senior Scientific Advisor to the Director, DGCG,
Division of Geriatrics and Clinical Gerontology (DGCG).
Maintaining the ability to walk without assistance and perform daily activities is essential for health and independence as we age. Conducted from 2010 to 2013, the NIA-supported Lifestyle Interventions and Independence for Elders (LIFE) study examined whether a long-term structured physical activity program was more effective than a health education program in reducing the risk of major mobility disability in sedentary older adults. LIFE showed that a structured physical activity program - a goal of walking 150 minutes per week plus strength, flexibility and balance training - reduced the risk of mobility loss and death...
About the NIA
The National Institute on Aging (NIA) at the National Institutes of Health (NIH) leads the federal government in conducting and supporting research on aging and the health and well-being of older people. Our research ranges from the study of basic cellular changes that accompany the aging process to the examination of the biomedical, social, and behavioral aspects of growing older. Our main goal is to understand the nature of aging and the aging process, and diseases and conditions associated with growing older, in order to extend the healthy, active years of life.
---
Learn more about the NIA's mission and strategic directions for aging research at www.nia.nih.gov